Goals and Objectives
 To facilitate understanding of the Entertainment & Media Law regime as practiced in India;
To provide a platform to members to discuss and debate Entertainment & Media Law issues in India;
 To ensure and protect the media industry from Piracy, copyright infringement etc.
To help members engage with the government and facilitate legislative and policy formation through position papers, recommendations and organize meetings with government and INBA delegations.
Current Activity
The Entertainment & Media Law Section of INBA is on invitation only. Please send your interest to join the Section to Ms. Archana Aggarwal,  at Indian National Bar Association, who can be contacted at Archana_aggarwal@indianbarassociation.org. We will attend to your request shortly.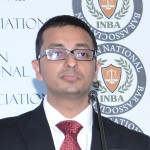 Zameer Nathani – Chair
Mr. Zameer Nathani is Head – Legal at Balaji Telefilms Ltd. and Balaji Motion Pictures Limited reporting to Mrs. Shobha Kapoor, Managing Director of the Company since June 2012. Previously he was Associate Vice President – Legal at Zapak Digital Entertainment Limited (Reliance – Anil Dhirubhai Ambani Group). He promoted and given additional charge for Heading Legal Departments of Big Adda.com (E-Commerce), Big Flix (Video on Demand) and Jump Games (Mobile Games Co.), Group Companies of Reliance – Anil Dhirubhai Ambani Group, called Reliance Entertainment – Digital Businesses. He has also worked as a Senior Associate at Mallar Law Consulting in Mumbai. Mr. Nathani has also been associated to teaching profession previously as a professor of Law at various premier institutes like National College (Law College), Mumbai, Mithibai College and NMIMS, Mumbai, Hinduja College of Commerce, Mumbai. He has also been examiner, moderator and paper setter for law at University of Mumbai, India. Mr. Nathani completed his LLB (1998) & LLM (2004)from Mumbai University.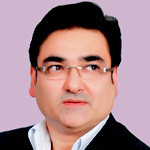 Rajiv Mishra – Advisor
Mr. Rajiv Mishra is a broadcast/media professional and founder of Electronic Media Rating Council of India. His contribution in TV Ratings methodology in Europe has been recognised by ITU/EBU at Geneva. He did Masters in Broadcasting from IAB, Montreux, Switzerland, MBA in Media Management from MCNY, USA and a Graduate Certificate Course in Multi-Media from UCLA, USA. He has worked for Hindustan Times, Star TV, TV Asia of USA and, BAG Films and Media. He is the nominated Member of various Media Advisory bodies in various Ministry of Government of India. Many of Mishra's family members are involved in public service. His elder uncle Lalit Narayan Mishra was the Railway Minister of India. His younger uncle Dr. Jagannath Mishra has been Chief Minister of Bihar for three terms. His cousin Nitish Mishra is a cabinet minister in Bihar. Rajiv Mishra is currently managing Lok Sabha TV as CEO and host one of India's most watched weekly show "Special Guest" on LSTV. He also writes article on different subject for various national news paper's of India. Mr. Mishra is also the founder and first President of Association of Radio Operators for India (AROI). AROI is the industry representative body of all FM Radio Broadcasters/Stations of India. He also founded Association of Regional Television Broadcasters of India (ARTBI).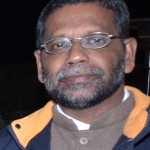 Karimbilappu Devarajan- Member
Head of DEVARAJ ASSOCIATES, a Lawyers firm, appearing in various High Courts, Tribunals and Supreme Court of India. As a one time Judicial Officer of Kerala he had represented in civil, criminal, IPR, Entertainment-Media, Debt recovery, Family Court and Human Right matters. As CEO of Internationally acclaimed Film production-Distribution company Karimbil Films, Aparna Films International and Dileep cine Enterprises, he represented India in Twenty Eight Major-reputed International Film Festivals and Markets held in America, France, England, Japan, Singapore, Hongkong. Being a Journalist, Poet and Writer Mr. Devarajan Scripted and Directed Eight Childrens Films, Three feature films and several documentary Films; Mr.Devarajan presented papers in various international seminars including the one which organized by National Human Rights commission of India, International Council of Jurists and All India Bar Association, on December 11 and 12, 2010, at Vigyan Bhavan New Delhi and received a "Scroll of Honour" from Hon'ble Mr. M.Hamid Ansari, Vice President of India. His Masters Degree in Literature, Degrees in Journalism, History, Education, Law, GCE in Civil Engineering, all obtained from Calicut University and Completed LLM Degree Course from M.G. University. Currently Mr.Devarajan is actively practicing in Civil, Criminal, Debt recovery Intellectual property, Entertainment and Media Law.