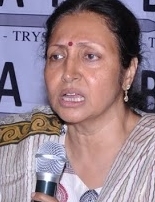 Ms. Lata Krishnamurti – ChairLata Krishnamurti did her L.L.B after completing Chemistry (Hons.) with distinction.She topped the University in Constitutional Law. She did her Masters in the field of International Law and Constitutional Law in the Madras University Department under Professor T.S Rama Rao. She had won the merits scholarship for doing her Master course.
She joined as a Research Officer at the Bar Council of India and was on the editorial board for the Bar Council of India Journal. In May 1983 she decided to join practice at a law firm and sat for the Advocate on Record exam. Later she then joined the Supreme Court Legal Aid Panel. She was selected amongst the 12 who formed the panel. She has appeared and represented the most excluded sections of society.
She joined Mr. Ram Jethmalani in 1988 when he was defending Mr. Kehar Singh one of the accused in the Mrs. Gandhi assassination case. Since then till 2010 June she has worked as a junior in Mr. Jethmalani's office. She also had her private practice. She has briefed and appeared with almost all the eminent lawyers of Supreme Court. She has long experience in both conducting and assisting public interest litigation.
She has co-authored 2 papers which were presented in international seminars. She has authored a hand book on minimum wages act for the India Institute of Social Sciences.
In 2010 she became a partner in the Ram Jethmalani Law Chambers. She is also been heading the Ram Jethmalani Foundation and the Manidweep, a charitable trust. In her capacity as a Chairperson of these charities she has had the opportunity to work with various NGOs including People for Change.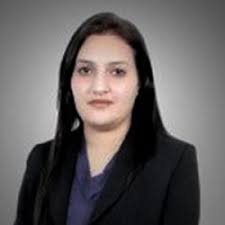 Ms. Kanchan Khatana, Vice-Chair Kanchan Khatana holds a Graduate Degree in Economics from Punjab University, Graduate Degree in Law from Rajasthan University and a Master's Degree in Business Administration from Punjab Technical University. She holds advance certifications on Project Management and Six Sigma from Indian Institute of Technology (IIT) and is Certified Internal Auditor for ISO 27001 from British Standard Institute.
Ms. Khatana carries over 14 years of extensive experience in steering matters across Employment Law, Corporate Law , Regulatory Compliance, Mergers and Acquisitions, strategic alliances and joint ventures for many Multinational corporations across countries like India , China , Hong Kong ,Japan , Australia ,Philippines, Korea and Singapore.
Enriched by education from leading Law and Management institute, Ms. Khatana has played a vital role in transforming many organizations into one of the nation's fastest growing companies.
Ms. Nirmala Samant Prabhavalkar – Advisor. she was a member of India's National Commission for Women (NCW). Former Mayor of Mumbai, Nirmala Samant Prabhavalkar is a High Court Advocate and Former Chairperson of Maharashtra State Women's Commission. Her focus lies in implementing Government Schemes specially formulated for Women and Children in India.

Ms. Chitra Desai- Member,Core Committee – Armed with B.A.Honours in Political Science, L.L.B from Law Faculty, Delhi University, Post Graduate Certificate Course in Alternative Dispute Resolution (ADR) from KC Law College, Mumbai University. Ms. Desai assisted many prominent lawyers after enrolling with the Bar Council of Delhi in 1980 and joining the Supreme Court of India and have also previously written a legal column for a women's magazine 'Vama.'
Ms. Desai have been a board member of the Central Board of Film Certification from 2001-2003 and was nominated as Jury Member for National Film Awards 2001 and also been a former member of the Advisory Committee of National Film Archives of India (NFAI). Ms. Desai worked with Times Foundation's legal Literacy Program in various colleges and on a research project for Plan International titled 'Socio – Economic Development of District Rajgarh, Himachal Pradesh'.
From 2006 to 2007, Ms. Desai worked with the Maharashtra Legal Service Authority as part of their 'Rural Legal Literacy Program.
Since 2012, Ms. Desai have been one of the founding members of a local Environment group called OLCA – Oshiwara Lokhandwala Citizens Association. OLCA's main focus is saving open spaces & protecting the environment – specifically the mangroves that surround the Oshiwara & Lokhandwala region.