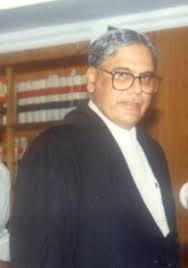 Hon. Former Justice Shri Fakhruddin, Executive Committee Member, INBA Judges Forum
He Was Born On 3rd September, 1944. He Passed High School Examination In 1959, Intermediate In 1961 And B.Com. In 1963. He Passed Ll.B. In 1966 Securing First Class First And Awarded Gold Medal. He Passed Ll.M. In 1968.
 He Was Enrolled As An Advocate On The Rolls Of States Bar Council Of Madhya Pradesh In 1968 And Practiced On Civil, Criminal, Service, Constitution, Election Laws. He Appeared In Gulabi Chana Commission Presided In By Hon. Shri Justice R.J. Bhave And Also Appeared In Various Commissions Such As Burhanpur Riot Commission And Churhat Lottery. He Was Elected Member Of The State Bar Council In 1974, 1979, 1984 And 1989 And Continued Till His Elevation. He Was Unanimously Elected As The Vice Chairman Of The State Bar Council. Also Functioned As Chairman Of The Bar Council. He Was Appointed Convener Of The High Court Legal Aid And Advice Sub Committee In 1981. He Was Also Appointed As The Member Of The State Legal Aid And Advisory Board. He Was Vice President Of M.P. Hockey Association, Member Of Rani Durgawati University, Member Of Governing Body Of Hitkarini Law College. He Was The Standing Counsel For Several Corporations And Boards. He Was Designated As The Senior Advocate On 12/10/1993. He Was Elevated As The Judge Of The High Court Of Madhya Pradesh On 15/12/1994 And On Transfer Assumed Charge As Judge Of The High Court Of Chhattisgarh On 21/05/2001.