INTRODUCTION
This article is an attempt at understanding of pros and cons of "The Arbitration and Conciliation (Amendment) Act, 2015 ", it is an efforts by Government of India to improve the ease of doing business in India. The Government of India Promulgated the Arbitration and Conciliation (Amendment) Ordinance, 2015 amending certain provisions of the Arbitration and Conciliation Act, 1996, it was efforts and steps to providing dispute resolution mechanism in India.
The Amendment has been accepted and passed by the both houses including assent of president and ordinance promulgated and being effective. It will help and re-filter the dispute resolution mechanism in India, and will create the confidence across domestic as well as foreign business investor in India; followings are the key amendment of the Act which is highlighted below.
1. ACCEPTANCE OF ELECTRONIC MEANS AGREEMENT
It is permitted and allowed and widely accepted legally, an arbitration agreement contained in the form of communication through electronic means is now to be treated as a valid arbitration agreement. This brings the Act in compatibility with the UNCITRAL Model Law.
2. STATUS OF COURT IN INTERNATIONAL ARBITRATION
Part-I of the Act applies to arbitrations where seat is in India and Court assistance in taking evidence and appeals from order granting or refusing interim measures by Courts will also be applicable to a foreign seated arbitration, Pursuant to Act, In Case of International Commercial Arbitration, means the High Court in Exercise of its ordinary original civil jurisdiction and in courts where ordinary original civil jurisdiction is not present, High Court having jurisdiction to hear appeals from subordinate Courts
3. APPOINTMENT OF ARBITRATOR
In Case of International commercial arbitration, the power to appoint an arbitrator is now with the Hon'ble supreme court of India. In this amending act, It is an endeavour to dispose of the matter within a period of sixty days from the date of service of notice to the opposite party and an application for appointment of arbitrator is to be disposed of as fast as can, it may help to resolve a long pending concern with respect to appointment of arbitrator which currently takes very much time.
The Act provides that any person whose relationship with the parties or counsel or the subject matter of the dispute, falls under any of the categories as specified in the fifth schedule of the Act shall be ineligible to be appointed as an arbitrator. The said disclosures are internationally accepted and honoured step in ensuring the independence of the arbitrator
4. INTERIM MEASURES BY THE COURT
Whenever, any order for interim measures has been passed by court under the Act prior to the commencement of the arbitration proceeding, the arbitration proceedings to be started within a period of ninety days from the date of such order or such further time as court may deem fit. Once the arbitral tribunal constituted within law, court may not entertain an application for interim measure unless the remedy provided may not be effective and surely it will reduce the judicial interference.
5. SCOPE OF INTERVENTION BY JUDICIAL AUTHORITY
Authority may require referring the parties to arbitration unless it finds that no valid arbitration agreement exits. If the original or certified copy is not available with party for applying for arbitration, either party may call upon the other party to produce the same by filling an application, moreover, an order refusing to the refer the parties to arbitration is now appealable under Act.
6. ENFORCEABILITY OF INTERIM MEASURES BY THE ARBITRAL TRIBUNAL
Now, the Arbitral tribunal has power under the Act to grant interim measures, such order may be granted by the tribunal doing the arbitral proceeding or at any time before enforcing arbitral award under this Act. The Interim order passed by arbitral tribunal would be enforceable under the Code of Civil Procedure,1908,
Pursuant to this act, now scope of arbitral tribunal has widened and may take following interim measures:
Appointment of a guardian for a minor or person of unsound mind;
Measures protecting goods or amount of money, or property which is subject matter of the dispute;
Interim injunction or appointment of receiver.
Resolve issues and confusion on the arbitrator's powers to grant interim reliefs.
7. APPLICABILITY OF THE ACT TO ARBITRAL PROCEEDINGS
This Act is to govern and regulate to all arbitral proceeding commenced on or after the effectiveness of Act, thus, applicability of the Act shall be limited to arbitral proceeding and shall limit if the award is passed before the commencement of this, meaning thereby Act is not applicable to post arbitral proceeding and separate application needs to be filed so as to enforcement of awards could be challenged.
8. CLAIM BY RESPONDENT UNDER THE ACT
A new provision has been inserted in the Act, By virtue of this new provision respondent is allowed and permitted to in support of his case, can submit a counterclaim. A very new features which is widely appreciated by the international and domestic association.
9. TIME BOUND ARBITRATIONS AND FAST TRACK PROCEDURE
The arbitral tribunal is to make the award within twelve months from the date the arbitral tribunal received notice in writing of its appointment. The parties may, by consent, extend the aforesaid period by six months. Arbitral tribunal has power to hold the hearing and arguments and although cannot grant adjournment within sufficient cause. It may work as very speedy manner. If the awards is not made within the said period of eighteen months, then arbitrator will get terminate and new arbitrator may appoint. Besides, in case of termination of the arbitrator by court, the arbitral tribunal shall reconstituted and proceeding may conduct from the stage already reached by the earlier arbitrator, no requirement to start new proceeding,
10. RATE OF INTEREST AND COST UNDER THE ACT
If the amount awarded by the arbitral tribunal, may carry interest at 2% P.A, from the date of award to the date of payment and cost to be awarded to the parties under the act are too includes counter claim and settlement amount, it will give benefit to aggrieved party and entire arbitral proceeding.
11. NO AUTOMATIC STAY ON ENFORCEMENT OF AWARD
Party may seek stay, an award given by arbitral tribunal, is required to file application for the same, an award may challenge within three months after party get copy of awards and it may extended to more thirty days with sufficient cause, if the awards is not challenged by either party then it will be enforceable. Court may direct to party to furnish security while considering the application for grant of stay in case of arbitral award as court may deem fit under the CPC.
12. THE COMMERCIAL COURTS, COMMERCIAL DIVISION V/S ARBITRATION
The disputes in regard to commercial transaction i.e. shall cover commercial contracts, joint venture agreements, intellectual property rights, contracts relating to movable and immovable property etc. may widely resolve by below hierarchy.
Commercial Court/Commercial Division: Commercial Act provides that all application and appeal arising out of an international commercial arbitration and out of domestic arbitration of such value have been filed in High Court having original jurisdiction shall be heard by the commercial Division, appeals from such commercial division will be heard and disposed off by the Commercial Appellate Division and any other application and appeal arising out of a domestic arbitrator other than international Commercial arbitration shall lie any principal civil court which shall be heard and disposed by the commercial court, In my Opinion the appeal from such commercial appellate division order may taken care by the Hon'ble supreme court of India.
Flowchart to understand the above:-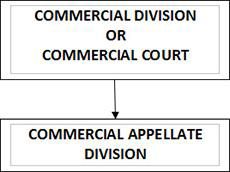 In case of arbitration which is below mentioned and following hierarchy shall applicable where petition/appeals would lie;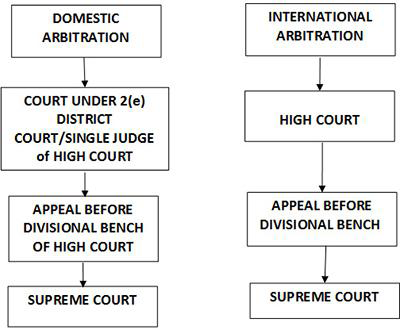 CONCLUSION
Thus, after analysing the various aspects of the mechanism of legal move, I conclude that amendments through this bill will be millstone of Indian and very positive approach towards business growth, we hope that it would play significant role to reduce the dispute in speedy and fast track manner among the various industry whether in international or domestic.
Submitted By:
Sunny Kumar, Pursuing Ph.d,
Mewar University, Chittorgarh