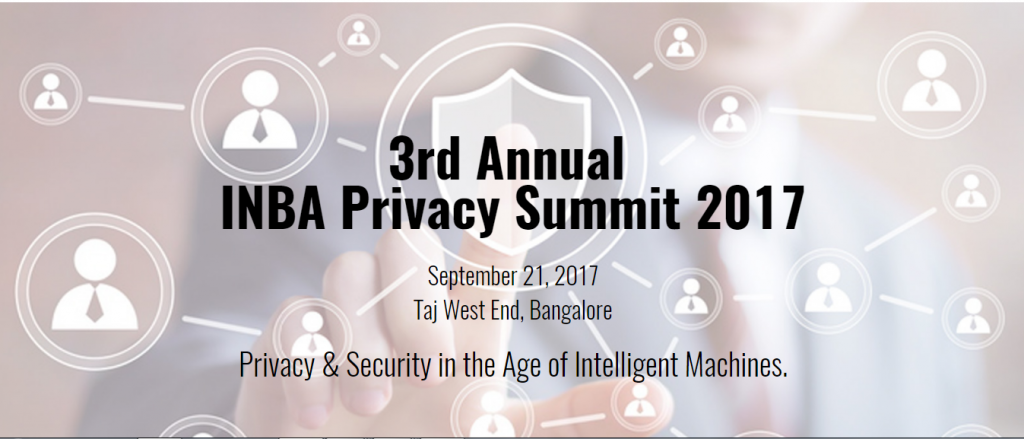 3rd Annual India Privacy Summit 2017
September 21, 2017
Taj West End, Bangalore
The Indian National Bar Association ("INBA") has been in the quest to create an impact in every sphere of the legal fraternity since its inception. Amongst several other organizations in the country, we pride ourselves for creating a platform for the legal practitioners of law to interact with the luminaries and experts of the industry. In order to provide a platform to facilitate discussions and sharing of ideas regarding the core issues of privacy, the INBA, conceived the idea of the "Annual India Privacy Summit' and has successfully concluded two such events. The 3rd Annual India Privacy Summit is being organized on September 21, 2017 at Taj West End, Bangalore.
We live in a virtual era and it is more pertinent than ever to ensure protection of privacy through legal systems and awareness. Keeping in mind the dynamics of the legal sector, we believe it is the responsibility of professionals, scholars and students to engage in regular discourses and undertake innovative processes to further evolve our legal systems.
Moving forward, we invite lawyers, corporate counsels and industry experts to submit relevant white papers and presentations. The most relevant submissions shall be given opportunities to present at the summit. We also intend to present select recommendations from these submissions to the Government of India, as we together, debate the ways in which privacy and data protection can be strengthened.
Key Topics:
1)Cultural understanding of privacy
2) Migration to the Cloud – Legal issues to be dealt with
3) Role of Data Protection Officers
4) Surveillance/ National Security vis-à-vis Individual Privacy
5) e-Privacy Regulation in EU
6) Data & Anti-trust/competition law
7) Health-tech & fin-tech – privacy issues
8) Primer on Indian laws regarding privacy and data protection
9) GDPR: The New World Order
10) Electronic transactions – Fraud, vulnerabilities, security controls and mitigation measures-
11) Singapore, Russia, Japan, Israel and China: Emerging New Privacy Regimes
12) Child rights & Student Privacy
13) Future of A Iand liability issues
14) Drones and legal implications
15) Jurisprudential trends in privacy (e.g.: pending cases re AADHAR and WhatsApp)
16) Data Analytics- Legality and ethics (e.g.: targeted behavioral advertising)
17) Right to be forgotten
Our Speakers & Panelists:
Dr. Aditya Sondhi, Senior Advocate – Additional Advocate General, State of Karnataka
Aditi Jha, General Counsel (India) LinkedIn
Rakhi Jindal, SVP, Operations & Technology and IP Law Group Citi
Meenu Chandra, Senior Attorney, IP & DCU Lead (India Region) , Microsoft
Sivaram Nair, Executive Vice President, Company Secretary, General Counsel and Ethics Officer , Mphasis
Kavitha Babu, Director & Commercial Attorney , Microsoft India
Sonal Basu, General Manager and Head of Legal (US), Mindtree
Gowree Gokhale, Partner, Nishith Desai Associates
Salman Waris, Partner – Head TMT and IP Practice , TechLegis
Rajesh Sreenivasan, Head, Technology, Media & Telecommunication Laws, Rajah & Tann Singapore
Srinivas Poosarla, Vice President and Head (Global), Privacy & Data Protection, Infosys
N. S. Nappinai, Advocate & Author of "Technology Laws Decoded"
Seema Manku, Vice President – Legal, Glenmark Pharmaceuticals
Kanchan Paralkar, Legal and Governance Officer , Tata Industries Ltd.
For more details; kindly contact us at : +91-9971532995; archana_aggarwal@indianbarassociation.org
Click here at summit website: http://www.privacysummit.in/