Call for Volunteers for INBA's 2nd edition of Sexual Harassment Survey.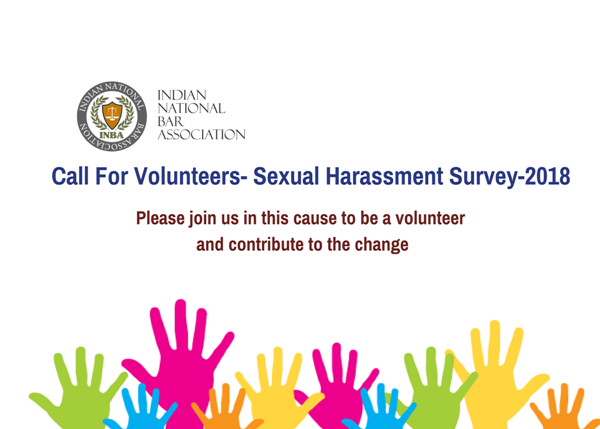 SCOPE OF SEXUAL HARASSMENT
Sexual harassment at workplace is internationally condemned as sex discrimination and a violation of human rights, and more than 75 countries have enacted legislation prohibiting it. Sexual harassment in the workplace increases absenteeism and turnover and lowers workplace productivity and job satisfaction. Yet it remains pervasive and underreported, and neither legislation nor market incentives have been able to eliminate it. Strong workplace policies prohibiting sexual harassment, workplace training, and a complaints process that protects workers from retaliation seem to offer the most promise in reducing sexual harassment.Sexual harassment includes such unwelcome sexually determined behaviour (whether directly or by implication) as: a) Physical contact and advances; b) A demand or request for sexual favours; c) Sexually coloured remarks; d) Showing pornography; e) Any other unwelcome physical, verbal or non-verbal conduct of sexual nature
 ROLE OF INBA
In order to fight the ferocious crime of sexual harassment, INBA has taken an initiative since quite a few years ago and working on substantial events to increase the awareness with respect to prevention of sexual harassment. INBA have conducted a survey in 2016 and 2017 on sexual harassment and the report is titled as "Garima." The initiative reached out to over 6,047 people, of which 78% were women, working in sectors such as BPOs, IT, education, legal and hospitality. The interviews were conducted in over ten cities in India, including Delhi, Mumbai, Bangalore and Pune.
In the year 2018, 23 look forward to continue our project to make a difference. We shall further expand our survey to every section of the society, as we move out of the workplace environment. We intend to conduct surveys in schools, colleges, streets and neighbourhoods, along side workplaces.
 This report of survey will be delivered to:
Government of India
Parliament Of India
Ministry of women welfare, etc.
WHO CAN VOLUNTEER?
Are you an enthusiastic person? Do you like to make a difference in what you do?
Anyone who is interested in making a change with his precious time on internet is welcomed.
 BENEFITS
New Experience
Adding value to your CV
Networking
Certificate
ROLES AND RESPONSIBILITIES
Sharing the posts
Spreading awareness
Active participation in enlightenment drills etc.
Interested candidates kindly fill the registration form:-  Click Here
Note: All the volunteers will be entitled to get the Certificate of Participation for their active contribution.
For more details; kindly contact us at
 Satyajeet Dutta
+91-9971532995/011-49036141